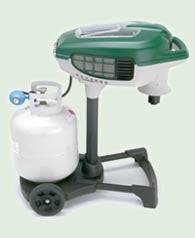 MM1100 Power Head Solar Pro- *POWER HEAD ONLY*
Mosquito Magnet Solar Pro/Pro Plus Power Head
The Mosquito Magnet PRO Solar Plus is our top of the line model for effective mosquito control as well as other biting insects -- just perfect for the control of up to 1 1/2 acres!
The State-of-the-art Hybrid Power System with its thermoelectric module and NiMH battery pack means the PRO Solar Plus works for yards with no access to an electrical outlet. The Industrial strength solar panel serves as a backup power source.
This mosquito magnet has an extra-large capacity net and offers easy assembly and quick start-up. The PRO Solar Plus is constructed with rugged materials for long outdoor life. Experience the control of a Mosquito Magnet!
For customers who already own a Solar Pro MM1100* No need to exchange your nonworking powerhead, replace with this newly serviced unit and save! Save on Shipping & Handling and save $100.00 as we have discounted this product from our Swap Program.
Limited to stock on hand!