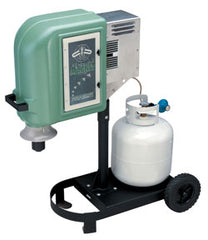 Pro-C MM1000
Mosquito Magnet® Commercial Pro MM1000 Trap
The Mosquito Magnet® Commercial Pro MM1000.  Easier for you to relax and enjoy your yard free from mosquitoes. 
The Mosquito Magnet® Commercial Pro MM1000 trap protects one full acre of land so you can confidently win your battle against mosquitoes. Heavy duty plastics and Stainless Steele grade materials make this trap ideal for even the harshest environments.
Cordless Technology


The Commercial Pro MM1000 features technology that has been designed for the homeowner who needs to protect larger yards with up to a 1 acre area. This self operated trap requires no external electrical power source, so no cords are required. This convenient feature allows for proper placement of the trap away from your outdoor living space, but still near mosquito breeding and resting areas.
The Commercial Pro MM1000 Net is engineered to maximize unblocked airflow and large capacity which is critical to the performance of the trap.This net allows for easy disposal and replacement without requiring any direct contact with dead insects.Change net every 21 days for optimal trap performance.